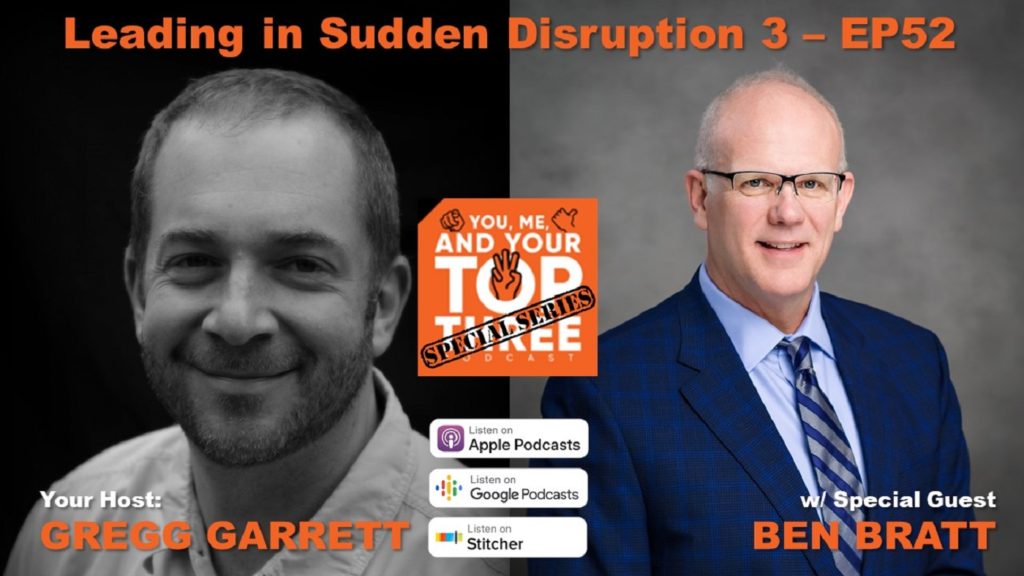 During this mini episode, You, Me, and Your Top Three host and CGS Advisors CEO, Gregg Garrett, speaks with Ben Bratt, a global expert in developing organizations and teams. He speaks about how Maslow's Hierarchy may be updated during this pandemic. He also speaks about how we may need to consider the waves of this pandemic washing through our teams, our organization, and society in general. Finally, he speaks about how we all have to understand the grief curve to lead effectively in these times.
Show Highlights
0:46 No one has been here before – facing the global pandemic together.
1:49 Ben Brett – The Team Effectiveness Project
4:15 Technology enabling community – How bandwidth may end up near the bottom of Maslow's Hierarchy.
10:06 The impact of COVID-19 'waves' on the global supply chain.
15:23 COVID-19 and the grief curve – being empathetic leaders. (Elisabeth Kübler-Ross)
23:21 Hope is as contagious as the virus.
Additional Information
Contact Ben Bratt:
Contact Gregg Garrett:
Contact CGS Advisors:
Subscribe: