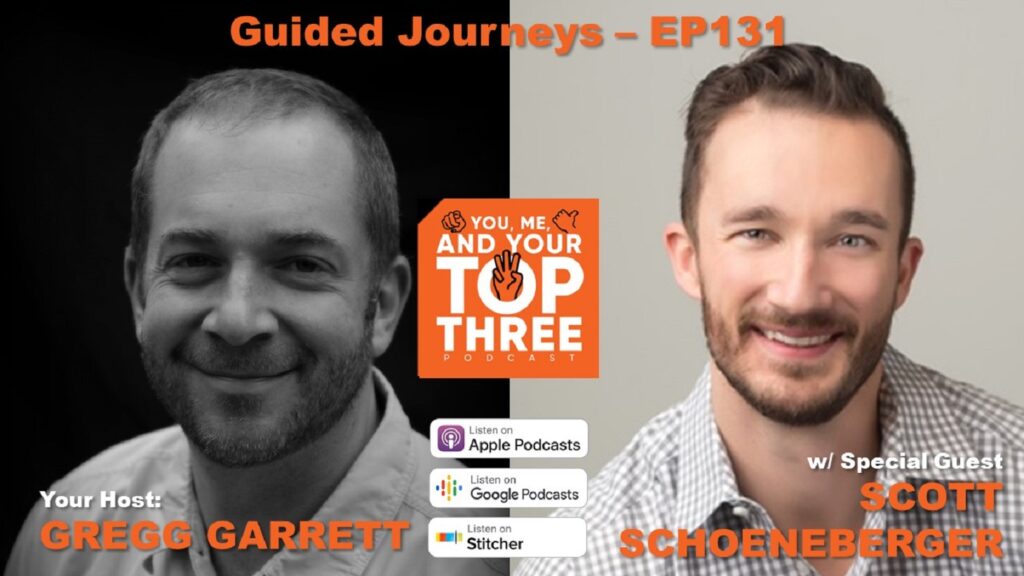 Guided Journeys | Scott Schoeneberger, Managing Partner of Bluewater Technologies Group, joins host Gregg Garrett to discuss his guided journey through his multi-faceted events and technology integration business. Of course, Scott speaks about his Top 3, including his parents and uncle who encouraged different world views, perspectives, and a sense of innovative thinking, his first mentor, Sandy Corrigan, who took him on a journey of learning and self-discovery, his wife Chanel Schoeneberger who is an ultimate sounding board, and his friend Josh Linkner who helps him reflect on his industry and the firm's role in it. And you have to hear what he has to say about putting yourself out of business.
About Scott Schoeneberger
Scott Schoeneberger is the Managing Partner and Chief Creative Officer at Bluewater, an agency that operates four industry-leading business units to support sensory storytelling across digital & physical canvases. He is the founder of the immersive night walk experience, Glenlore Trails.
A spark-plug of positivity, Scott lives to Make People Smile. He seeks to bring out the best in those around him, encouraging others to tackle big challenges in creative ways, and to have some fun along the way. He frequently shares his thoughts around this, and other industry topics in Forbes, Entrepreneur, and CEOWorld.
Scott is also an active board member at the Detroit Sessions, a non-profit which serves to connect a new generation with the classical arts by infusing art, space, & technology to create inspiring performances that resonate with the culture of today.
Scott is a Samoyed fanatic, a father of two, and when not cooking plants, can be found near the water.
Show Highlights
During this episode:
Linear paths vs free roam journeys [1:10]
Welcoming, Scott Schoeneberger [4:37]
Bluewater Technologies Group – sensory story telling across physical and digital canvases [7:37]
The "Top Three"
Scott's Parents & Uncle – offering different world views, perspectives, and a sense of innovative thinking [11:03]
Sandy Corrigan – a journey of learning and self-discovery [12:59]
Chanel Schoeneberger – the ultimate sounding board [23:33]
Pivoting the business during COVID – (The Tale of Glenlore Trails – Bluewater's Immersive Entertainment Experience [28:54]
An R&D profit center [36:00]
Having a case study for creativity / sales [39:30]
Josh Linkner – reflecting on industry and the firm's role in it [41:51]
You have to hear this…
Technology to keep an eye on [46:48]
Eventually, someone is going to come and push you out of business – so it may as well be you. [53:59]
Stay in touch with Scott! [57:07]
Additional Information
Contact Scott Schoeneberger:
Contact Biggby Coffee:
Contact Gregg Garrett:
Contact CGS Advisors:
Subscribe: