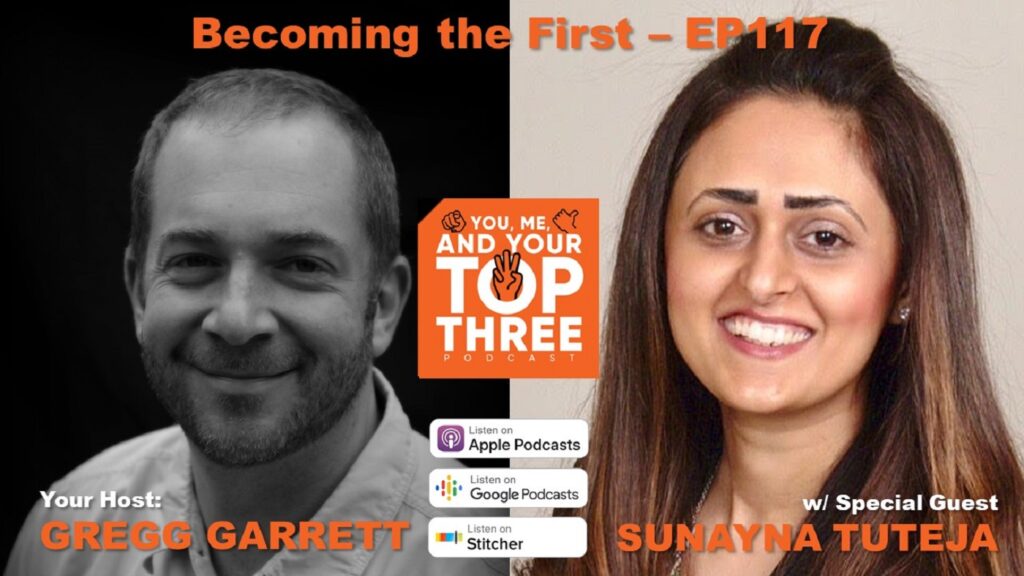 Becoming the First: Sunayna Tuteja, Chief Innovation Officer for the Federal Reserve System joins host Gregg Garrett for a discussion on the importance of passion when you are making your own journey. Sunayna speaks about coordinating decentralized innovation inside and beyond the Federal Reserve, a 100+ year old entity. And of course, she shares her Top Three who include her parents who taught her that regret is a wasted emotion, a former boss who helped her bridge the passion of avionics to that of corporate finance, a group of classmates who help her to see the horizon even when her flight plan is changing, and a virtual community that educates her whenever she is ready to listen. And you have to hear what she has to say about creating the routine on-ramp each and every day.
About Sunayna Tuteja
Sunayna Tuteja joined as the Chief Innovation Officer for the Federal Reserve System in 2021. She brings 10+ years of global experience leading change and innovation at the nexus of finance, technology and policy. Most recently, Sunayna was the Global Head of Emerging Tech & Strategic Partnerships at TD Ameritrade. This practice was inclusive of commercializing frontier tech, building and investing in the next generation of products and experiences in collaboration with partners in big tech, fintech, start-up and the VC ecosystem in North America and Asia. When she's not nerding out on all things innovation, you can find Sunayna adventuring the skies in her Cessna.
Show Highlights
The purpose of passion [1:18]
Pairing passion and curiosity [2:00]
Welcome guest, Sunayna Tuteja [6:02]
The "Top Three"
How to harness frontier technologies with a sense of purpose [8:22]
Her Parents: Grateful for everything, entitled to nothing [11:00]
Regret is a wasted emotion [14:34]
Dan who helped her channel obsessions and hard work into new endeavors [20:35]
Board of Advisors relationships are most impactful when they are symbiotic [28:02]
Fellow students from flight school: stress test the assumption of the problem [36:10]
Digital communities, social networks are creating access to data and thoughts and relationships in real life [45:22]
Transformation & Disruption
The Federal Reserve Bank of the United States [51:08]
Sunayna's three goals of taking on a new role in a new organization [53:30]
Innovation at the Federal Reserve – why now? [56:01]
The relationship between technology and innovation [1:02:25]
You have to hear this…
Get up early: "Creates the routine on ramp and off ramp to my day" [1:05:45]
Additional Information
Contact Sunayna Tuteja:
Contact Gregg Garrett:
Contact CGS Advisors:
Subscribe: