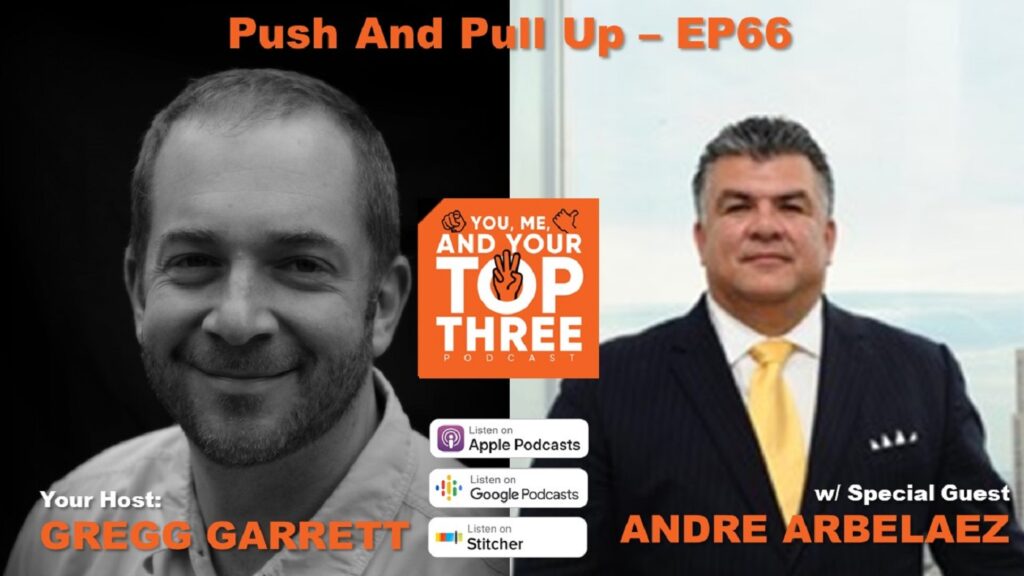 During this episode, You Me and Your Top Three host, Gregg Garrett, speaks with Andre Arbelaez about the connective power of race and ethnicity. We learn how some ethnic groups support one another with lessons that will help any group of people perform better. Andre is the founder of HITEC and HC3 – a Hispanic, technology executive group. Andre speaks about the significant leaders who have helped him to become the humble cheerleader he is today. From executives at Facebook, Cisco, and HP to mobility experts with whom he grew up with, Andre documents lessons through the stories that help bring them alive. And you have to hear what he has to say about the responsibilities that leaders have to both push up and pull up other leaders.
About Andre Arbelaez
Andre Arbelaez is a Global Technology Executive and a Leader in the Hispanic community nationally as the President & CEO of the Hispanic C-Suite Corporate Council (HC3). He is a frequently sought speaker on Technology, Diversity & Inclusion and Smart Cities topics and has spoken at events from the White House to the United Nations Headquarters.
Professionally, Andre has had global technology executive roles with Globant, Argentina's largest technology firm & Softtek USA, Mexico's largest private nearshore firm as their SVP and Chief Strategy Officer. He also has served Leadership roles in Global Business Development with T-Systems and Covisint LLC, the automotive global portal owned by General Motors, Ford, DaimlerChrysler, PSA and Renault.
Andre leads HC3, a non-profit organization, to increase the number of successful Hispanic executives in public and private companies by adding value to their development, leadership, and philanthropic endeavors thereby strengthening their companies, organizations, and communities. HC3 is focused on the promotion, advocacy, connectivity and development of the Hispanic Executive.
Andre also helped develop HITEC during its inception in 2007 and became HITEC's President in 2011. He has cultivated a premier group of relationships including CEO's, CIO's, CTO's and both VP's of IT and Diversity and Inclusion leaders from Fortune 1000 global companies and was named by Latino Leaders magazine as the "Technology Diversity Guru".
He also serves as Oakland University's (Rochester, Michigan) Chairman of the Advisory Board for the Information and Decision Sciences Department. He also serves on the Board of Directors of iWorker Innovations, a Michigan company driving equality and designing benefits tailored to America's fast-growing independent workforce and on the Board of Advisors for the Miss America Organization.
Andre received the 2018 Maestro Award in Leadership in August of 2018 and was also named one of the "101 Most Influential Latino Leaders in 2017" by Latino Leaders Magazine. He received the 2016 Alumni of the Year award from Northwood University in Midland, Michigan.
Show Highlights
Segment 1: Overview
1:08 Seeking the familiar.
3:57 How bonds are shaping mechanisms of societies.
5:33 Andre Arbelaez: A leader in the Hispanic community (HITEC; HC3).
Segment 2: The "Top Three"
9:07 Andre's "Top Three" Guillermo Diaz – reciprocate the greatness that one receives from others.
9:44 Push up and pull up – the responsibility of knowing you have to help others go to the next level.
11:39 Hispanic IT Executive Council – Founders: Francisco DeArmas. David Olivencia, David Segura. Key Individuals: Thaddeus Arroyo. Tim Campos. Ramon Baez. Javier Polit.
16:10 "Show me friends and I'll show you your future."
21:29 Andre's "Top Three" Thaddeus Arroyo – intentionality and preparedness.
24:40 Hints to maintain relationships that matter – always focus on maintaining loyalty and trust and care to see people succeed.
28:30 Balancing Corporate America and the Christian Hispanic culture.
33:30 Our duality of heritage should be considered a plus.
37:30 Andre's "Top Three" Rahul Misra – keeping you centered and humbled.
41:47 Andre's "Top Three" Marty Martinez – the importance of digital marketing in all we do.
Segment 3: Impact of Disruption & Technology on Manufacturing and Home Furnishing Industries
44:53 The importance of the connected world.
46:27 Companies that have strong digital presence succeed. Those who don't fail.
Segment 4: Wrapping Up
48:01 A piece of advice: "Spend five minutes every day and look outside your window." See what is happening in the world.
49:39 Connect with Andre on LinkedIn!
Additional Information
Contact Andre Arbelaez:
Contact Gregg Garrett:
Contact CGS Advisors:
Subscribe: