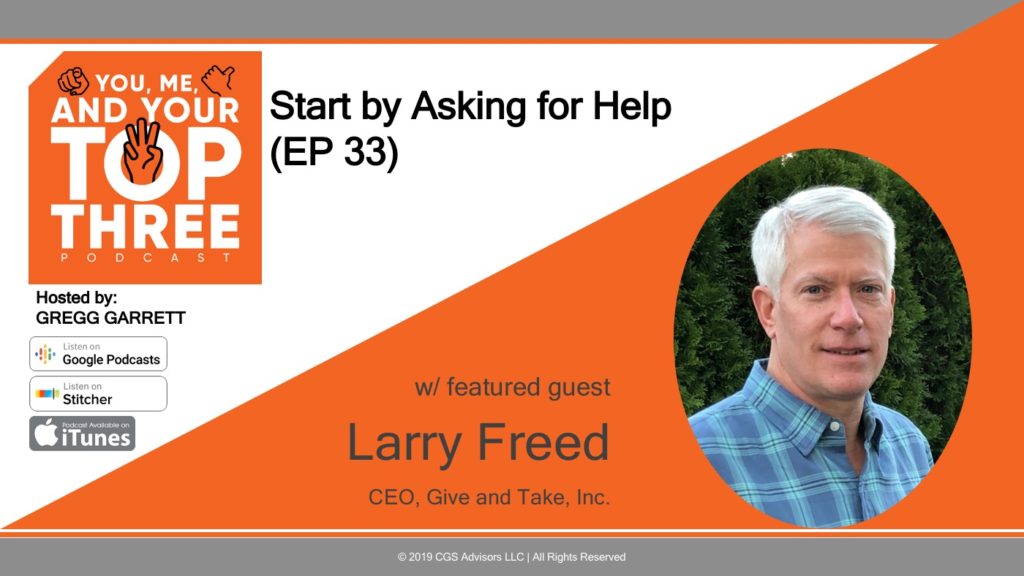 During this episode, You Me and Your Top Three host, Gregg Garrett, speaks with Larry Freed, CEO Give and Take, Inc.. Larry is a multi-time CEO who utilizes the concepts from Adam Grant's best-selling book Give and Take to scale businesses. He speaks about SaaS businesses and partnering with academic institutions and their PhDs to create unique and valuable business opportunities. Larry dives deep into the knowledge collaboration capability and the art of encouraging people to invest in one another by giving and seeking help; deepening relationship trust. And, of course, Larry shares his top three – ranging from his spouse and three sons, to leadership teams who built trust and support to win together, to ultra-smart experts that define industry segments via the seeds that grow into businesses. Finally, Larry shares the secret to deep relationships – being brave enough to ask for help.
About Larry Freed
Larry is the CEO of Give and Take Inc., a company that was co-founded by Adam Grant (Wharton), Wayne Baker (Univ. of Michigan) and Cheryl Baker. Give and Take provides solutions that help organizations improve knowledge collaboration, foster a culture of generosity and improve engagement. The Reciprocity Ring is a dynamic, face-to-face exercise where groups learn to bring the "pay-it-forward" concept into action and practice. Givitas is a purpose-built, knowledge collaboration platform that can scale across an organization that makes it easy to ask for and give help every day, while fostering a giving culture and providing equal access to community knowledge and experiences.
Larry's background includes being the co-founder and CEO of ForeSee, the leader in customer experience analytics. He led the company from inception (2001) to successful exit in 2013, returning over 22 times the capital invested in the business. After the exit at ForeSee, Larry advised, mentored and consulted with early stage and growth stage technology companies. He also served on the board of directors of various tech companies. Earlier in his career, Larry also had executive leadership roles at Compuware (Vice President) and Bank One (CTO).
Larry has authored two books, Managing Forward and Innovating Analytics.
Show Highlights
Segment 1: Overview
1:14 The three types of relationships: Takers, Matchmakers and Givers (Adam Grant Give and Take – Book)
3:19 Larry Freed – CEO. Investor. Mentor. (Give and Take, Inc. ForeSee. 2nd Stage Partners. Wolverine Venture Fund. Compuware.)
Segment 2: The "Top Three"
5:39 Larry's "Top Three": Former and Current Colleagues – people you rely on to "help you go". (Cia McCaffrey. Don Morrison. Mitchell Cohen. Dave Jansen.)
7:02 "If tech doesn't work, the company doesn't work."
9:20 The importance of the 'people person'.
11:30 "Don't tell me what you think I want to hear because that is a waste of our time. Tell me what I don't know. Tell me what you think I don't want to know."
14:31 Larry's "Top Three": Co-founders, Board Members and Investors – Know what you know; know what you don't. Knowledge, expertise, and brilliance. (Claes Fornell. Wayne Baker. Cheryl Baker. Adam Grant.)
16:44 How to create a Board of Advisors. (Pete Karmanos. Scott Johnson.)
19:43 What drives satisfaction in sales? Accentuating the positive but not embellishing.
23:12 The pattern of tech transfer, etc.: "The key is to always understand what [the professors] role will be."
28:29 Larry's "Top Three": Family – wife, three sons and the extended family –the support to work the enormous amount of hours.
30:58 Engaging children in the world of business.
Segment 3: Industry Disruption & Transformation
34:48 The core focus of Give and Take, Inc – boosting performance and building culture.
40:37 "I would have thought that getting people to give help would have been harder than getting people to ask for help. It's the complete opposite."
43:10 The request must be SMART 1) Smart. 2) Meaningful. 3) Actionable. 4) Real .and 5) Time Boxed.
44:54 Not trying to recreate other solutions – complimentary to other solutions.
48:51 Purposeful Networking – "Build a relationships because I've asked for something and you're going to help me with it."
50:00 Micro-mentoring: "Don't ask them to be your mentor, ask them for help." – Adam Grant
53:47 Hint: "Start asking for help…most people want to give if it is easy to give."
57:22 AI and the knowledge collaboration industry.
Segment 4: Leadership & Wrapping Up
1:01:12 "Leadership is setting a vision and leading by example."
1:01:47 Piece of advice to leaders: Ask for help.
1:02:32 Stay in touch with Larry via LinkedIn or email (larry.freed@giveandtakeinc.com). Visit Givitas.com or GiveandTake.com for more information on Give and Take, Inc.
Additional Information
Contact Larry Freed:
Contact Gregg Garrett:
Contact CGS Advisors:
Follow