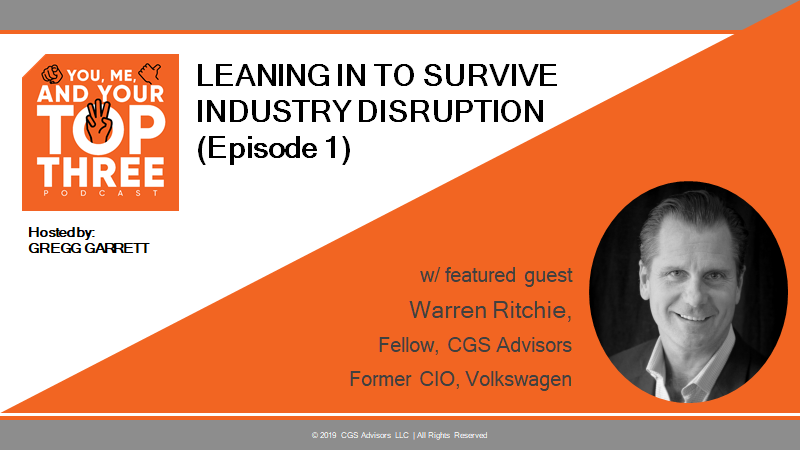 About this Episode
From a geography degree to the head of corporate strategy, Dr. Warren Ritchie gives audiences a glimpse into his humble beginnings and vast array of experiences that led him on a storied career. Mentor and friend to show host, Gregg Garrett, for close to 20 years and co-author of Competing in the Connecting World, Ritchie discusses his experiences with industry disruption all the while addressing key concepts from the book. Wrapping up the podcast, Warren addresses the question of the importance of advisory colleagues versus outside council.
About Dr. Warren Ritchie
During his 30+ year career to date, Dr. Warren Ritchie has emerged as an expert in leading corporate transformation in private and public sector companies. His experience has been gained in the functional areas of corporate strategy, marketing, finance, sales and information technology.
Today, Warren is a Fellow at CGS Advisors', a boutique strategy and innovation firm that readies clients for competing in the connecting world. Warren assists corporate leaders in being brave as well as advising clients on dynamic market issues and strategic changes necessary to grow. His areas of expertise focus on transformation related to corporate and business strategies, wrestling with the questions "what business are we in", and "how do we compete" respectively.
Prior to working with CGS, Warren had a 24-year tenure with the Volkswagen Group of Companies where he held leadership positions in the United States, Canada and Argentina. For the majority of his career he has been a change agent, assigned to either initiate a new or transform an existing challenged function or department. He started his career in automotive by leading field sales and marketing organizations, eventually taking on "headquarter" responsibilities in almost all functions outside of manufacturing. He led corporate strategy at VW in both Canada and the United States for years before moving to the IT department eventually becoming CIO. He continues to advise automotive clients applying his unique perspective of strategy and IT.
Show Highlights
7: 14 How did Warren go from having a geography degree to the head of corporate strategy for one of the largest automotive corporations in the world?
8:58 What was his motivation for participation in, book Competing in the Connecting World?
12:27 He has had experience in many jobs, there seems to exist a pattern for change responsibility, is that the consistency you see in your own career?
14:15 What is the "Transformation Framework" and what makes it unique?
18:30 Talk about your personal experience in industry disruption, an experience that went well.
23:36 Organizational Transformation, what are its biggest failures?
25:55 Firm renewal, are the world's larger firms set-up to experience this?
28:28 Change or die, this idea speaks to the death of a corporation – as Warren has lived this, what lessons did he learn about motivation?
35:14 Ecosystem Commanders, what are they and why is this such a relevant concept in this Connected World?
47:55 Who are Warren's top 3 individuals that have been a part of his personal, virtual advisory board?
56:06 What will advisors look like in the next 30 years? Will it be good enough to stick with advisors from your own company or industry?