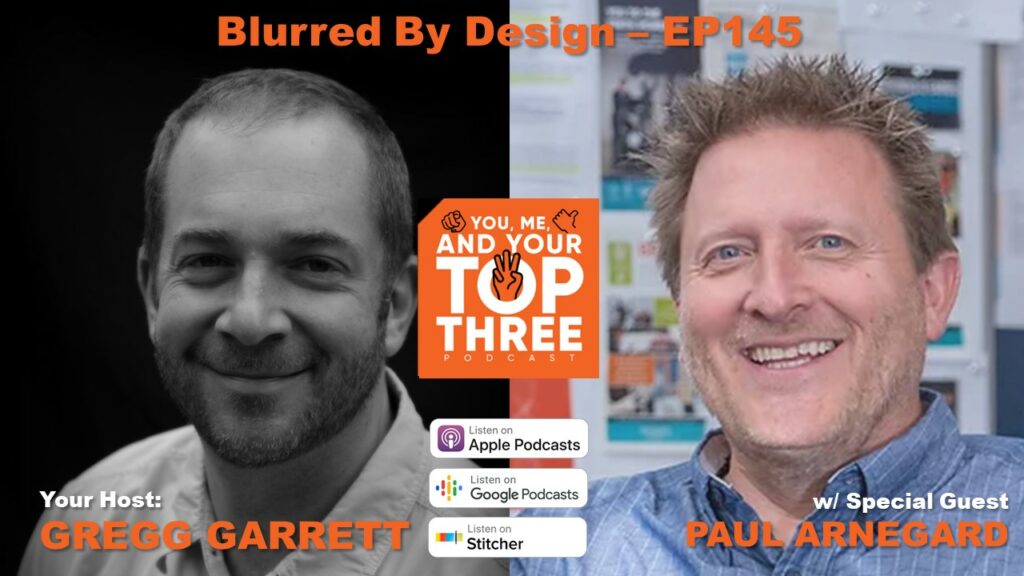 Paul Arnegard, VP of Creative Services at Tweddle, joins host Gregg Garrett to discuss how his firm has transformed as the mobility industry continues to be disrupted. Of course, Paul speaks about his Top 3, including Dan Owens who helped him pivot to the creative side of the firm, his father who helped him get Earthy Wisdom, and Grandmaster Kim who helped him bring discipline and calmness to his hectic life, and current and former colleagues like Brian Suszek (former podcast guest, episode 113), Alex Awn (former podcast guest, episode 139), and Amy Simonelli who influenced him to build trust, see the good, slow down, and ask diverse questions. And you have to hear what he has to say about taking the time to meditate every day.
About Paul Arnegard
Paul is the Vice President of Creative Services at Tweddle Group, a pillar company of the CJK Group portfolio. CJK is a global information provider for multiple industries, and Tweddle's role is to supply one-stop support for OEMs through content development & management, creative services, digital print & distribution, and diagnostic tools. Paul manages several shared services within the organization, including video production, graphic design, UX/UI, CGI, project management, quality, and marketing.
Prior to arriving at Tweddle twenty-two years ago, this University of Michigan alum spent time in several disparate fields, each of which contributed to his business perspective and leadership style. From spraying orange groves to working as a martial arts instructor. From repairing billboards high above the ground to sitting behind a desk to write. From engaging students as an English teacher to engaging opponents as a kickboxer. Each step along the way provided experience and insight that he continues to apply for growth and problem solving in the workplace, though punching and kicking are no longer a part of his solution toolbox.
During this episode:
Introduction [0:00]
Industry Lines are Blurring/Experience Design [1:10]
Introduction to Paul [3:23]
The "Top Three"
Dan Owens, former boss who helped him pivot to the creative side of the firm [6:15]
His father who had no formal education but earthly wisdom [9:45]
Grandmaster Kim who helped him bring discipline and calmness to his hectic life [15:40]
Brian Suszek, former boss who played the biggest role in Paul rising through the ranks [24:55]
Alex Awn, creative support and helps make Paul a better leader [29:40]
Amy Simenelli, creative video director who tells Paul to slow down [32:17]
You have to hear this…
Tweddle Background [41:03]
Blurred Industries [46:55]
Additional Information
Contact Paul Arnegard:
Contact Gregg Garrett:
Contact CGS Advisors:
Subscribe: