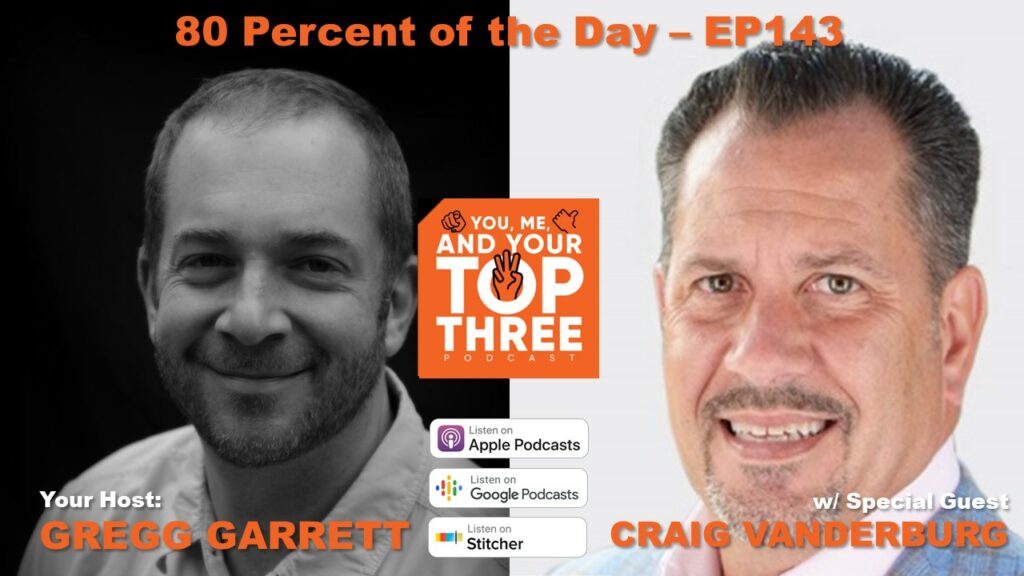 80% OF THE DAY | Craig Vanderburg, COO of Trion Solutions, joins host Gregg Garrett to discuss the success his firm has had in outsourcing HR for small and mid-sized firms. Of course, Craig speaks about how he spends 80% of his day with his Top 3, including Pathik Mody, Craig Sherman, Don Turowski, and Trion's operations team. And you have to hear what he has to say about the importance of a routine.
ABOUT CRAIG VANDERBURG
Craig Vanderburg is among the nation's most-experienced professionals in the HR-administration industry and is used frequently by local and national media as an expert resource on issues such as workplace policies, compliance issues, health and workers' compensation insurance, and challenges faced by small to mid-size businesses. He is a former member of the National Association of Professional Employer Organizations (NAPEO) board of directors and a former Chairman of its Accounting Practices Committee. He was a former President and CEO of two HR-administration companies and was formerly a Managing Partner of Affinity Group LL, an M&A and investment-banking firm that was assisting service and growth companies on issues including private equity, senior and sub-debt, and mezzanine and hedge-fund financing. He earned his Bachelor of Finance degree from Wayne State University in Detroit and was an active member of the Young Presidents Organization. He serves on the Board of Directors of the Troy Chamber of Commerce. He is a popular public speaker and resource to news media on a variety of business issues.
SHOW HIGHLIGHTS
During this episode:
Introduction [0:00]
Do you have your Dream Team? [1:10]
Introduction of Craig [4:30]
Outsourcing Space [6:20]
The "Top Three"
Pathik Mody, CTO at Trion [4:12]
Craig Sherman, VP of Client Onboarding and Implementation [20:52]
Don Turowski, friend turned business partner [32:20]
Key Ops Team [38:15]
You have to hear this…
Routine [50:00]
ADDITIONAL INFORMATION
Contact Craig Vanderburg:
Contact Gregg Garrett:
Contact CGS Advisors:
Subscribe: