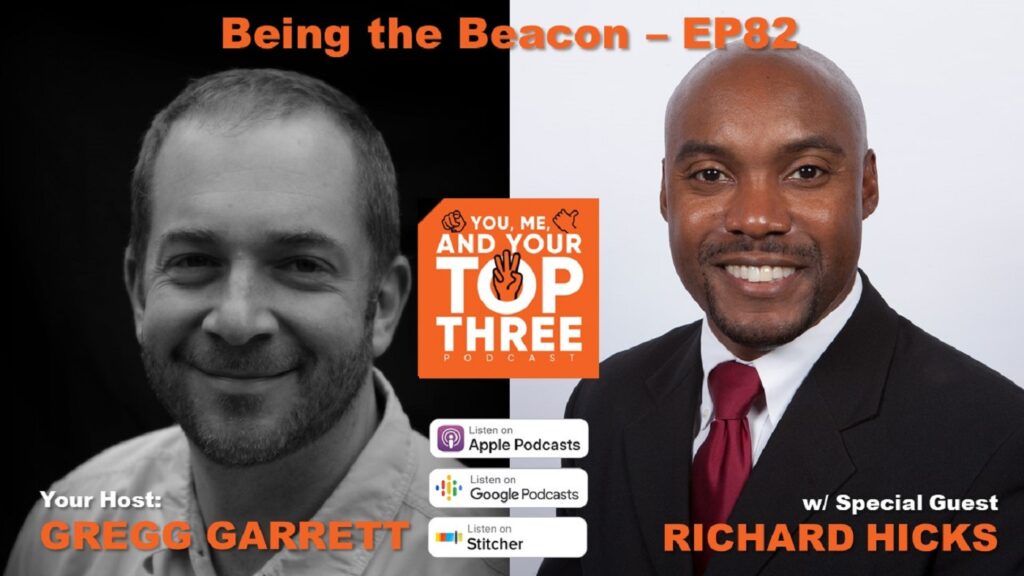 In this episode, host Gregg Garrett discusses how digitalization is both the greatest equalizer and creator of incredible divide. He then speaks with Richard Hicks who leads a not-for-profit that looks to close the digital divide by bringing together senior IT leaders, investors, and the community. Of course Richard speaks about his top three – from his current leadership team, to his experienced industry board. And he even speaks about disconnecting to connect with his donkey named Fiona. And you have to hear what he has to say about recruiting for mission over skills. All this and more!
About Richard Hicks
Richard Hicks is the CEO & President of Inspiredu, as well as a transformational nonprofit leader and speaker committed to improving opportunities for children and helping families improve their socioeconomic status. In his 11+ years with Inspiredu, and in his previous roles, Richard has led teams, managed high-dollar projects, and developed growth and fundraising strategies. He has been instrumental in creating relationships and alliances with Fortune 500 companies and with the tech community. Richard has a BA in Information Systems and Communications from Georgia College & State University and serves on the Executive Advisory Board for ATP (Atlanta Technology Professionals) and Advisory Board for Lincoln Tech. In addition to his career at Inspiredu, Richard also enjoys volunteering with and supporting other service organizations like the Agape Family and Youth Center. He sees the focus on families and communities as pivotal in our ever-changing world.
Show Highlights
Segment 1: Overview & Introductions
00:53 The power of digitalization
1:53 The great divide: how digitalization will empower some and divide others
4:56 Introducing Richard Hicks
6:51 Richard's Background
7:46 Richard's push to shrink the digital divide
09:54 Equitable access to technology training
Segment 2: The Top Three
11:47 Richard's 'Top Three' begins with his Leadership Team – Oneisha Freeman, Eddie Matano and Carmen Saladin who bring a strategic mission.
12:51 Connecting your teammates and telling your individual story
17:55 Recruiting for your dream team
21:10 The power of reverse mentorships
22:12 Your team makes you who you are
25:52 Richard's 'Top Three' continues with his board, and specifically, Patrick Hiller.
29:05 Transversal skills in the Digital Age
33:21 Learning from Leaders in the non-profit space
37:29 Richard's 'Top Three' concludes with the committee chairs and underserved members of the community that push him to do his best
Segment 3: Closing the Digital Divide
38:30 Closing the digital divide in Atlanta
42:58 The problem is wealth based
43:25 Digital Divide: the Literacy Gap of the 21st century
44:51 Serving the needs of the community at the intersection of wealth management, education and community development
47:57 Evolving an organization in a time of crisis
Section 4: Wrapping Up
51:00 Fiona the Donkey and escaping the daily commotion
53:05 Closing thoughts: reflect on the mistakes you made yesterday, but realize today is a new day
54:55 Stay in touch with Richard via LinkedIn!
Additional Information
Contact:
Contact Gregg Garrett:
Contact CGS Advisors:
Subscribe: