Gregg Garrett, Managing Director and Founder, CGS Advisors was recently recognized by L. Brooks Patterson, Oakland County Executive, as one of the Elite 40 Under 40 in Oakland County, Michigan.
"I'm honored to be recognized with such an outstanding and diverse group and I look forward to what we can all do to keep Oakland County and Michigan competitive in the world," said Garrett. "The past and present recipients are a distinguished group who all work hard and raise the reputation of Oakland County immensely."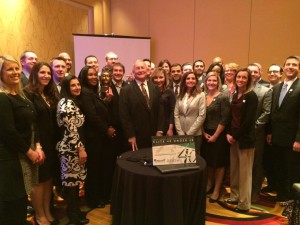 Nearly 500 applications and nominations were reviewed by a panel of judges, looking for the top 40 young professionals and thought leaders who live or work in Oakland County. The 40 honorees have achieved excellence in their field and contributed to the quality of life in their communities. This is the fourth year of the Elite 40 program.
"There are so many talented young people who are a vital part of Oakland County," County Executive L. Brooks Patterson said. "Their innovation, talent, leadership and ideas will help shape this county for years to come."
Garrett is CEO and Managing Director of CGS Advisors, a boutique strategy and innovation advisory firm based in Metro Detroit. He was previously the chief strategy officer for IT & Innovation at Volkswagen Group of America; a senior vice president for T-Systems North America (Deutsche Telekom's business division); and, leader of consulting group for gedas USA, during which he helped launch the Enterprise Architecture Interest Group, a cross industry consortium focused on advancing the practice of EA. Garrett received his BS in systems engineering from Oakland University in 1997, and in 2004, earned an MBA in integrative management from Michigan State.