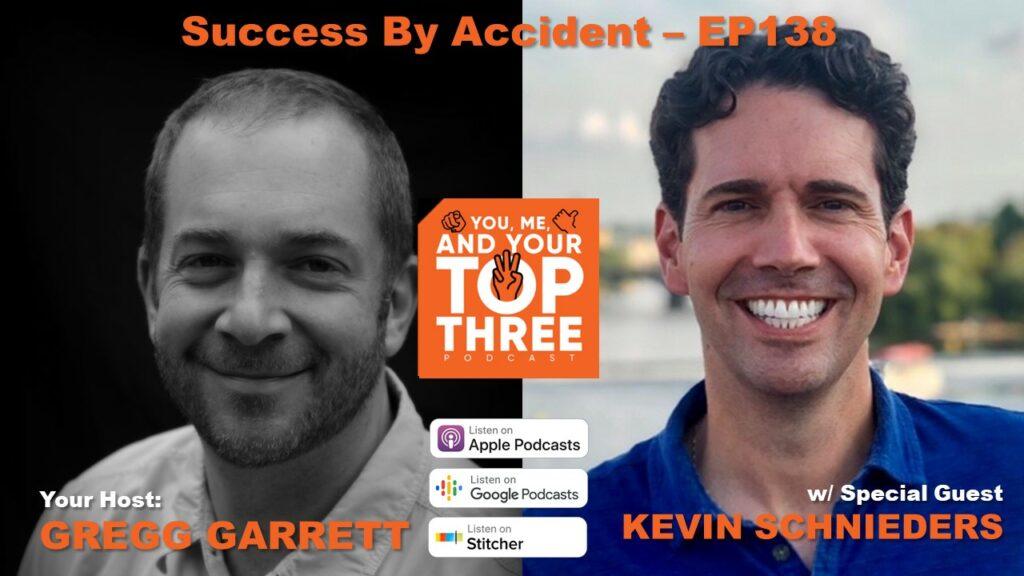 KEVIN SCHNIEDERS | Kevin Schnieders, CEO of EDSI, joins host Gregg Garrett to discuss success and why your attitude towards success may be the differentiator. Kevin also admits he has been accidentally successful in his career. Of course, Kevin speaks about his Top 3, including his father, who provided the platform for his success; his wife, Wendy, who reminds him of why he wants to be successful; his colleague, Arlene Jones, with who he has grown with; and two important coaches in his life who taught him to surround himself with people who are ahead of you on the journey. And you have to hear what he has to say about coloring your calendar.
About kevin schnieders
Kevin Schnieders is the CEO and President of EDSI. Striving to be the solution for companies and people in transition, EDSI is a workforce development, customized training and consulting company. The company focuses on providing innovative solutions to close workforce skills gaps around the country. Kevin started with EDSI as a Training Consultant in 1994. He gained additional responsibilities as the firm's HR Manager and Director of Operations, before serving six years as the Chief Operating Officer. In 2007, he assumed the role of CEO, or as he refers to it, the "Chief Servant Leader," and the company has quadrupled in revenue and number of locations, added 600 new employees and increased profitability since Kevin made this transition. This success can be attributed to putting others first, listening closely to their insights and needs, and helping them understand their unique strengths. Kevin says, "I had the humility to understand that I had purchased a great company, a tremendous respect for the legacy left by our Founder, and an unwavering desire to help people."
Outside of EDSI, Kevin mentors a high school student for Building Bridges, a charity that inspires children to believe in themselves by connecting them with caring adults. He serves as Vice President for the Rainbow Connection, an organization that helps dreams come true for Michigan children with life-threatening illnesses and provides support to their families. Kevin is also the President of the Berkley (MI) Education Foundation.
He has a Master of Science in Learning and Organizational Change from Northwestern University and an undergraduate degree in English and Secondary Education from Albion College.
Show Highlights
During this episode:
Introduction [0:00]
Mindset + Context [1:10]
Introduction of Kevin – Accidentally Showing Up [4:46]
The "Top Three"
His wife, Wendy [7:10]
Arlene Jones [11:44]
His father [18:00]
Larry Short, his personal coach [25:40]
Mike Turner, college golf coach [31:10]
You have to hear this…
Modernizing the Training Business [39:40]
Color Your Calendar [49:00]
Additional Information
Contact Kevin:
Contact Gregg Garrett:
Contact CGS Advisors:
Subscribe: