Strategy formulation and implementation is at the core of CGS's offering.  We were founded in 2008 with a focus on helping companies create growth/investment strategies, and have built from this foundation.  Our key personnel have significant experience in driving strategies for small and large multi-national corporations, and have worked with one another for over a decade:
Warren Ritchie, our Strategy & Architecture practice leader, holds a PhD in Strategy from University of North Carolina and led corporate strategy for Volkswagen in both the USA and Canada.  Under his guidance Volkswagen redefined their market positioning, right sized their functions, and transformed results from significant annual red ink, to profitability.  He then went on to lead the creation and implementation of new IT functions throughout North and South America.
Gregg Garrett, CGS's founder, has been practicing different forms of strategy for a decade.  He was the SVP of Strategy for Duetsche Telekom's Business Division in North & South America.  As such he led M&A integrations, and formulated a complete repositioning of the firm in the North America, resulting in a 5X growth plan and investment by the board.  He also has significant experience in IT Strategies (department and market based), honed most recently as the Chief Strategy Officer for IT & Innovation at  Volkswagen Group of America.
CGS's unique DNA is summarized in:
Practitioner Experience – we have had the corporate responsibility for strategy, we understand the dynamics from the inside out.
Proven Team – Our team has worked together on many strategic programs and can effectively communicate with one another and our program sponsors.
Time Tested Technique – Our methodology,  grounded in a 25 year old discipline of enterprise architecture, literally creates a blue print of your company.  As featured in a Harvard Business School Case Study (here), we create a blueprint of your company and then define where the changes need to be made to implement your strategy.  (You can't change or manage what you don't understand!)
Our Strategy & Architecture Services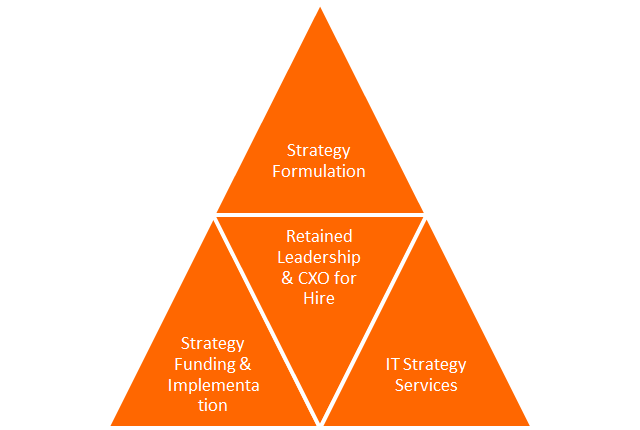 Strategy Formulation
Corporate Strategies – What business are we in?
Functional/Department Strategies – How do we compete?
Growth Market Strategies – How do we fit into, shape, and differentiate in a defined or emerging market?
IT Strategies
Traditional – IT Department Strategies
IT Strategies as Part of Corporate Strategies – A market based view of IT Strategy:

How does Technology fit into how we go to market?
How does IT contribute beyond the Enterprise/Back Office

IT Investment Memorandum – A combined strategy and investment pro forma focused on IT investments with top-line and bottom-line returns.
Strategy Funding & Implementation
Strategy Blueprinting – Architecture approach to Enterprise Strategies.
Investment Memorandum  – Building an investment plan for investors/shareholders is an exercise not for the faint of heat.  It can be used for external investors or for helping to sell corporate sponsors by treating them like an external investor.  Not all environments demand such rigor, but those that do appreciate the completeness of this tool.
Implementation Management – Once a strategic direction is agreed upon, CGS can assist your team to implement and adjust.
Retained  Leadership
At times CEOs and boards have asked us to assume vacant leadership roles during a transition.  Our natural path are into CMO, Chief Strategy Officers, CIO, CTO, or board advisory roles.