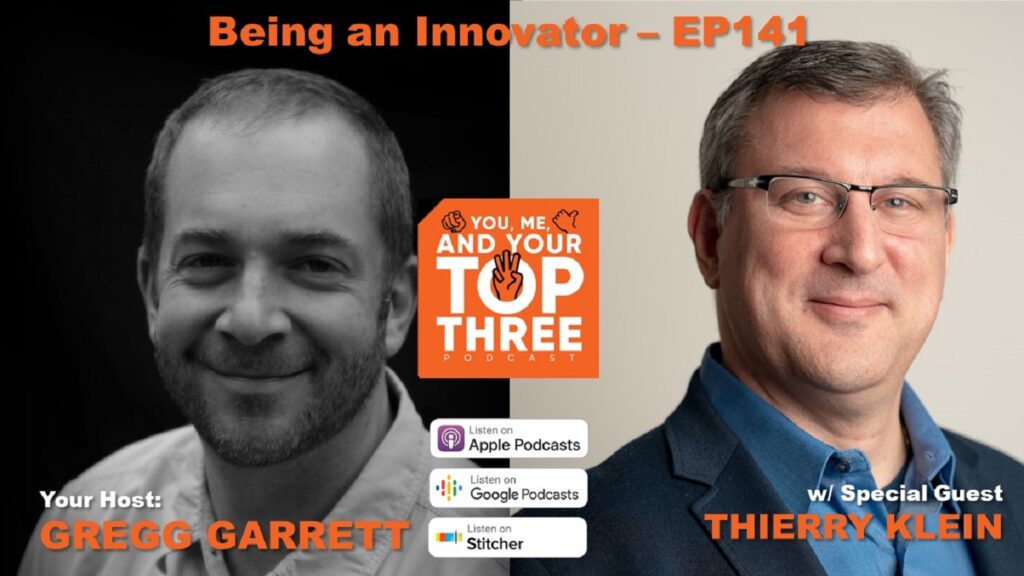 BEING AN INNOVATOR | Thierry Klein, President of Bell Labs Solution Research at Nokia Bell Labs, joins host Gregg Garrett to discuss the DNA of being an innovator. Of course, Thierry speaks about his Top 3, including his parents who helped him eliminate his fear of failure, his PhD advisor at MIT who taught him the business of innovation, and the aura of previous Bell Lab Presidents who helped set the bar for what leadership in innovation looks like. And you have to hear what he has to say about trusting your instincts.
About Thierry Klein
Thierry Klein is President of Bell Labs Solutions Research at Nokia Bell Labs. His distinguished global multi-disciplinary team conducts fundamental and applied research focused on new value chains, business opportunities and ecosystems beyond Nokia's current product and solutions portfolio. His team pursues research and innovation into advanced sensing technologies, AI-based knowledge systems and fundamental algorithms, autonomous software and data systems, novel architectures and integrated solutions and experiences.
Thierry served as the Founding Vice-Chair of the Board of the 5G Automotive Association, a cross-industry association bringing together the telecommunications and automotive industries, and he served as the Chairman of the Technical Committee of GreenTouch, a global consortium dedicated to improve energy efficiency in networks by a factor 1000x compared to 2010 levels. He was the Founder and CTO of an internal start-up focused on wireless communications for emergency response and disaster recovery situations.
Thierry earned an MS in Mechanical Engineering and an MS in Electrical Engineering from the Université de Nantes and the Ecole Centrale de Nantes in Nantes, France. He received a PhD in Electrical Engineering and Computer Science from the Massachusetts Institute of Technology, USA. He is an author on over 35 peer-reviewed conference and journal publications and an inventor on 36 patent applications. In 2010, he was voted "Technologist of the Year" at the Total Telecom World Vendor Awards and received the 2016 Industrial Innovation award from the IEEE Communications Society.
Thierry has dual US and Luxembourg citizenship and speaks four languages. He lives in Fanwood, New Jersey with his wife and son.
Show Highlights
During this episode:
Introduction [0:00]
DNA of an Innovator – Bravery [1:00]
Thierry's Introduction [7:36]
His Definition of Innovation [10:00]
The "Top Three"
His parents [11:38]
His PhD advisor [19:36]
Previous Bell Lab Presidents [32:39]
You have to hear this…
Internal Venture at Nokia Bell Labs [43:20]
What He's Currently Working On [46:45]
Be Accessible and Trust Your Instincts [55:42]
Additional Information
Contact Thierry Klein:
Contact Gregg Garrett:
Contact CGS Advisors: