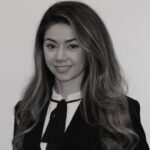 Xhuljana Rragami is a consultant at CGS Advisors. Xhuljana works closely with clients to understand the unique challenges they face day-to-day. She then applies her skills and analytical thinking to help them battle inertia and implement change management solutions to address their challenges.
Prior to joining CGS, Xhuljana spent several years working in Commercial Real Estate as a Senior Cash Management Specialist. In her role, she managed cash operations, implemented new procedures, promoted key business services, and supported the onboarding of new customers. Xhuljana also served as a liaison between banking partners and real estate accounting teams for day-to-day operations.
Xhuljana earned a Bachelor of Science in Business Administration in Finance and a Master of Science in Finance from Walsh College. During her graduate courses, Xhuljana found a particular passion for being able to provide clients with a strategy that utilizes technology in order to help them reach their goals.
Interests: Reading, learning, traveling, and spending time with family and friends.
Favorite Part of the Job: Xhuljana finds that the most rewarding part of her job is being able to work on a daily basis with a team that is brave and passionate about assisting firms in the execution of the "first mile" of their business transformation.
Why I Joined CGS:  
I joined CGS because I have a passion for driving change within an organization and desired the opportunity to be involved in exciting and game-changing work on a daily basis.
Personal Quote: "You can never cross the ocean unless you have the courage to lose sight of the shore." – Christopher Columbus
---