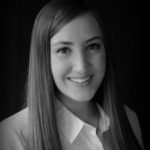 Tara connected with CGS CEO Gregg Garrett and Director Warren Ritchie in 2014 through her Masters of Business Administration program at Oakland University. Tara partnered with Gregg and Warren as a Graduate Assistant, helping to facilitate their MBA course, "Competing in the Connected World." Tara also acted as an Editorial Assistant, working closely with Gregg and Warren to write and edit a manuscript about connected strategy. It is through this partnership that Tara was introduced to the world of connected innovation, and a passion was sparked.
Tara was thrilled to join the CGS team in 2016. Prior to joining CGS, Tara taught communications courses at Baker College and Oakland Community College for five years. She earned her Bachelors and Masters degrees in English, in 2009 and 2011 respectively. She anticipates the completion of her Masters in Business Administration degree in 2017.
Interests: Traveling, writing, reading, IoT
Favorite part of the job: Bringing the client's vision to fruition and enabling real change through teamwork, resulting in win-win outcomes.
Why did I join CGS? I am passionate about CGS leadership's vision and goals. I am very fortunate to work with talented team members who inspire me to think critically and creatively, and encourage me to achieve my highest potential.
Personal Quote: "A master in the art of living draws no sharp distinction between his work and his play. His labor and his leisure. His mind and his body. His education and his recreation. He hardly knows which is which. He pursues his vision of excellence through whatever he's doing and leaves to others to determine whether he is working or playing. To himself he always appears to be doing both." – Francois Rene de Chateaubriand
---