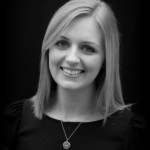 Sara Govan works within CGS Advisors' Strategy Services practice where she works with clients who are implementing significant strategic changes. Recently she has helped clients focused on enabling new work habits and making their workplace and work style more "Connected". Sara is a proven public relations professional with multi-industry experience who demonstrates strong communication, writing and editing skills.
Prior to joining CGS Advisors, Sara worked as a consultant for Michigan-based public relations firm, EAFocus Inc., where she connected the media with subject matter experts on issues ranging from local to national interest. Sara was also responsible for developing and executing public relations and communications strategies through content that engaged and enlightened target audiences.
Sara also brings to CGS Advisors strategy development and implementation experience from her tenure at Magna Powertrain, a tier-one automotive supplier, where she was charged with developing, implementing and managing the organization's social media program. The program focused on helping fill hard to find engineering disciplines and increase brand awareness. Sara was responsible for the company's LinkedIn page being named one of "The 12 Best LinkedIn Company Pages of 2012." She began her career as a communications coordinator for a political consulting firm in West Palm Beach. Here, Sara helped implement new communication channels and tools with traditional practices to effectively reach target audiences and increase name recognition of political candidates.
Sara serves as an inaugural member of the Young Leader Board of Directors of the Detroit Economic Club that hosted the first annual sold-out Young Leader Conference in June 2015. She also served as a Board of Trustees member for the Paint Creek Center for the Arts in Rochester from 2014 – 2016, where she chaired the organization's marketing committee and helped lead the organization's rebranding initiative.
Interests: Reading, swimming, skiing, traveling and spending time with family and friends.
Favorite part of the job: Being a member of a dedicated, enthusiastic and hard working team that has the privilege of collaborating with unique clients to influence positive change.
Why did I join CGS? I joined CGS because of the endless opportunities to grow and evolve as a professional, the support of management to help each team member push the boundaries and the ability to leave your mark on the company.
Personal quote: "May you live all the days of your life." – anonymous
---