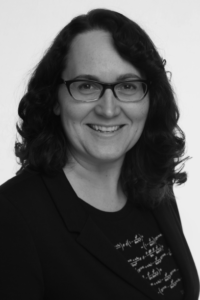 Angie Tuglus  joins the CGS Fellows Network as an expert at successfully delivering large, cross-functional change initiatives, from concept creation through to delivery.
She loves collaborating to find ways to transform businesses, to innovate, to change culture, and to deliver sustainable results.  As both a business strategist and tech nerd, she also enjoys diving into technological and social changes that are at the point of real applicability to business, and discussing how to build great leaders in an increasingly virtual, rapidly changing world.
She began her career in technology startups, building new businesses, and then later applied her passion for transformation in large corporations undergoing major change.  At Ford Motor Company, she was hired into the IT Leadership Program, and delivered a variety of projects across global IT management, IT security and new product research.
At GMAC, which transformed into Ally Financial, Tuglus became CIO of International Insurance and led a global cross-functional team to replace multiple legacy systems across 25 countries with a single new platform: a new core transactional system, financial system, data warehouse, and the complementary organizational changes to jobs and processes.
She then became EVP of Product & Project Delivery, and led the creation and launch of the flagship Ally Premier Protection product and customer experience, the division's largest product line.
Following that success, she became COO for Ally Insurance, leading all core operational functions such as Contract Administration, Claims, Payments, Loss Control, and Collections.  Upon inheriting a legacy culture that had not changed in decades, she drove a cultural transformation across the company, making Innovation the new normal and establishing new businesses such as Fixed Operations Consulting and Direct to Consumer.
Working with cutting edge digital companies, she keeps close to her entrepreneurial roots by advising startups such as TRED, a Seattle-based digital auto disrupter, and AQN Strategies, a boutique financial services consultancy with strong data expertise.  She holds a BS in Materials Engineering from Northwestern University and an MBA from Duke University.
---