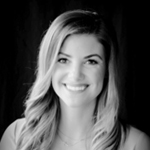 Working within CGS' Strategy Services, Angie contributes to, and leads small portions of, major client activities in strategy formulation and implementation. In addition to client delivery and development activity, she works on internal firm activity. Assisting many internal CGS firm functions, Angie promotes innovation throughout the firm and brings market experience to discussions focused on how technology innovations can be leveraged in the marketplace.
Prior to working at CGS, Angie worked in a number of different jobs as she completed her undergraduate degree at Michigan State University. These jobs included working as an experienced sales representative for a variety of corporations including property solutions, product promotions, and customer service. Several of these opportunities allowed Angie to expand her knowledge and experience in the professional workplace and gain insight into project management and business strategy.
Angie graduated from Michigan State University with a Bachelor's degree in Human Capital and with a specialization in Economics and Business.
Interests: Learning, tennis, music, snowboarding, and traveling.
Favorite part of the job: My favorite part of the job is being able to work with a team that is as hard working, dedicated, and motivated to succeed as I am.
Why did I join CGS? I joined CGS because I felt the company could sky rocket my learning capabilities and lead me to experience the professional workforce in a way that the average "entry level" job could not.
Personal Quote: "Do not go where the path may lead, go instead where there is no path and leave a trail" – Ralph Waldo Emerson
---