Amy is re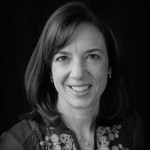 sponsible for CGS' back office and most non-client serving functions. Her focus on these HR, finance, accounting, and contract management functions ensure the firm's efficiencies so the majority of the staff can stay focused on leading thoughts and delivering consistent client value. Ms. Garrett manages a team of fantastic supplier organizations to deliver these functions and works weekly with almost all delivery teams.
Amy has successfully managed several careers prior to helping launch CGS Advisors. She is a licensed Physical Therapist and continues to treat patients at one of the largest hospital systems in Michigan as well as serving students at schools in the city of Detroit.  She is also the owner of a creative services business focused on providing products and services direct to consumers.
Amy has held numerous leadership positions at not-for-profits and volunteer groups in the communities in which she has lived and worked.  She has held officer positions in her local PTA, Jaycees, and served as a liaison to the Oakland University Board of Trustees.  Amy currently leads math and science programs at a local school to increase focus on STEM.
Amy holds undergraduate and graduate degrees in biology, health sciences, and Physical Therapy from Oakland University where she graduated with honors.
---