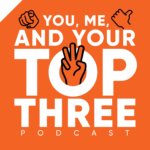 Understanding Yourself | Michael McFall, Co-CEO of Biggby Coffee, joins host Gregg Garrett to discuss the importance of knowing thyself and understanding your purpose in order to leave a legacy. Of course, Mike speaks about his Top 3, which range from Bob Fish, his business partner, who holds him accountable, to his mother, who created […]
Overview
disruptions in industry and society;
how they are leading transformations considering these disruptions; and
brave leadership to drive transformation.
It is this last point where we focus most of the discussion, asking our guests to share their insights into the relationships they have with their "Top 3" closest advisors.  It is our observation and experience that as the world connects, the importance of a diverse set of counselors is increasing in value.  For some this may be a formal advisor who has been contracted on behalf of the company.  For most this will be deep relationships in which they have been invested and nurtured.
Through stories and discussion, we strive to celebrate the art of giving and receiving advice.  The stories that are told are heartfelt and real.  At the root we are exploring the process of knowledge building, relationship building, and perhaps most importantly, confidence building.  After all, it takes a brave leader to battle the inertia that exists in industries, our organizations, and in ourselves.
It is our hope that as successful leaders open up about the way in which they interact with their closest confidants around these topics, that our listeners will, in turn, reflect on their own "virtual board of advisors." Over time they will then surround themselves with those who help them stretch toward greatness and lead bravely in the connecting world.