Look up at your bookshelves. How many beautiful strategy documents and market plans you have peering down at you? How many of them you have successfully implemented?
Strategies for Technology Driven Businesses –
Not an IT strategy.  Not a generic business strategy.  We specialize in that critical intersection where revolutions in the information technology industry are having sweeping effects on your industry.  We pride ourselves in unleashing the potential of your product, services, and people into today's ultra-connected world. We will work with you to discover emerging trends in the market, plan approaches to exploit them, and work with your team to ensure you continue to innovate into the future.
Our architected approach allows you to understand constraints during strategy formulation to assure that you can make your strategies become reality (vs. beautiful binders on the shelf of your office). The best strategy is worthless if your firm's resources are not aligned toward it…this is where real leadership begins. At CGS Advisors, this is the greatest source of pride in working with our clients.
Specialized Solutions
Our advisory services make up our primary line of business. Although we often find ourselves advising on general business matters, our three focus areas are: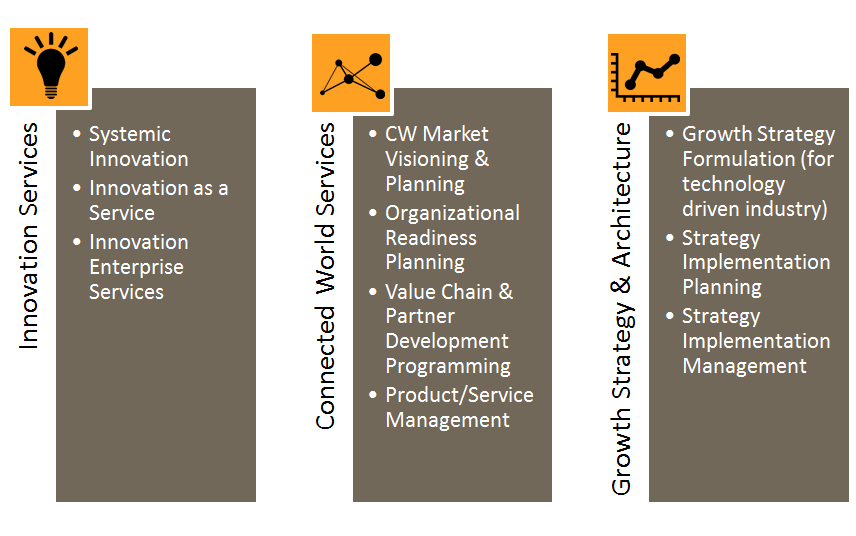 Innovation Services

–

Innovation is at the heart of today's competition. Outsourcing all innovation is not smart, but partnering to rapidly launch your internal innovation team is.

Connected World Services

- We are experts in readying a firm to compete in the ultra-connected world where all "things" are connected to the internet and products become services.
Growth Strategy & Architecture Services - Applying a methodology rooted in Enterprise Architecture, we help refine strategies, then plan and execute their implementation.
General Business Advisory Services
Through extensive experience working in the broad IT and services industry, and as leaders in varying Fortune 100 firms, we have developed generally applicable skills in
business panning and operations. Often, while engaged in one of our niche services, we are also engaged to assist in broader services.
Strategy Formulation & Executive Facilitation/Consensus Building (What should be offered and to whom?)
Strategy Implementation Planning (How do we do it?)
Corporate Governance Planning (Who does what?)
IT Strategy & Enterprise Architecture Planning (Business meets IT)
Strategic Marketing Services (How to approach the market?)
Partner and Consortium Setup/Establishment (How to not go it alone)
Board & Executive Sparring Services (External Perspectives)